Traditional topical acne treatments commonly include ingredients like benzoyl peroxide to target breakouts. While these can be effective for oily and plump teenage skin, they can be seriously challenging for adult skin. BalmLabs' proprietary research found half of American women in their 30s and 40s felt traditional acne topicals were irritating and overdrying – exacerbating their breakouts and fine lines.
"When I was a teen, my Benzoyl Peroxide-fueled skincare system was my trusty go-to for battling breakouts," says BalmLabs' founder, Sarah Waldock. "But when I started experiencing breakouts in my 20s, it just didn't work the way it used to and ended up leaving my skin sore and irritated."
But why?
Once you reach your mid-20s, your collagen and elastin begin to decline, making your skin more sensitive and less resilient.
"Repeated use of Benzoyl Peroxide can disrupt the natural barrier properties of the skin, resulting in uncomfortable, irritated skin rashes," says BalmLabs' Chief Dermatologist, Dr. Robin Schaffran. "No one with adult acne wants to trade their pimples for red, flaky skin."
After too many years of searching fruitlessly for a gentle, hydrating solution that battled pimples while delivering a healthy glow, Sarah teamed up with Dr. Schaffran to create BalmLabs' breakthrough skincare system, ClearBalm.
A Creative Experiment
BalmLabs decided to produce a creative dramatization with two fresh clementine oranges. On one we applied a popular acne-fighting solution containing 2.5% benzoyl peroxide, and to the other our ClearBalm Serum.
Why did we pick clementines? Its porous peel felt like a natural fit for our creative experiment.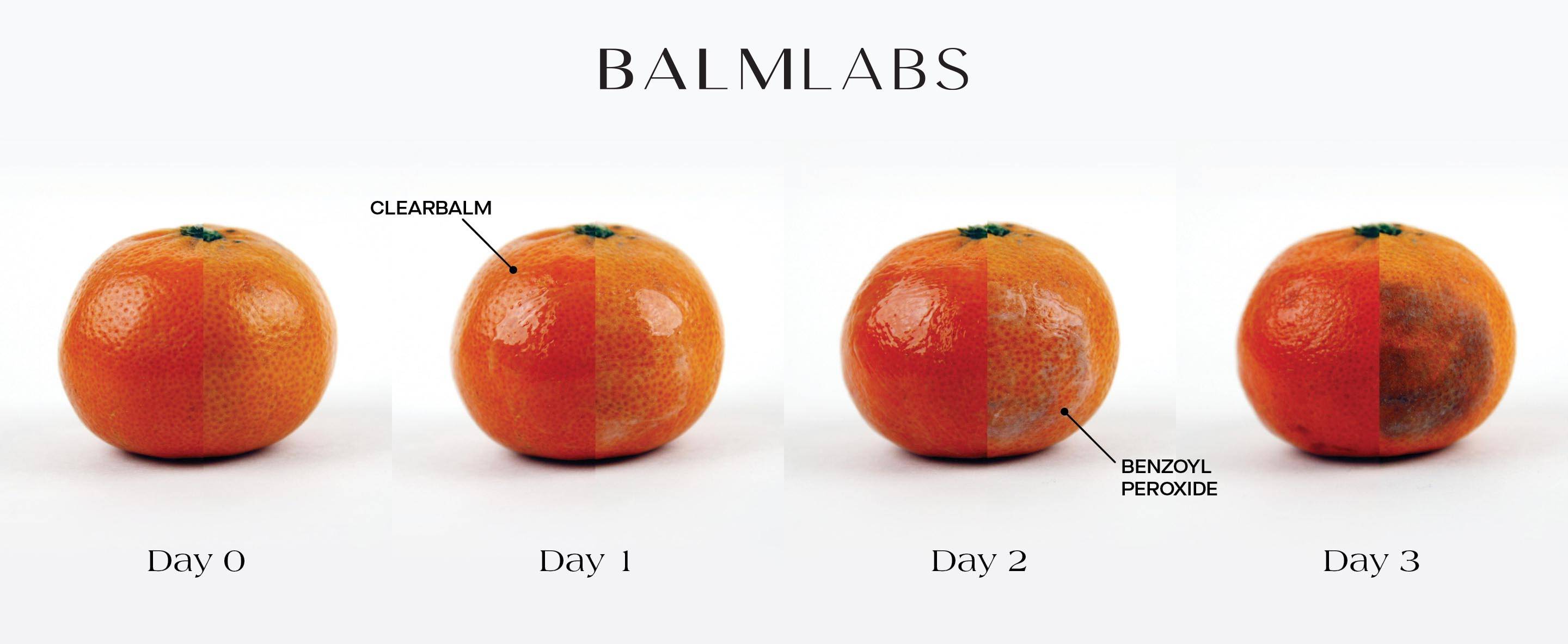 How did we do it?
We applied each product to its corresponding clementine twice daily, as directed, over a three-day period, and took a photo of each in the morning and evening.
After three days the ClearBalm clementine's peel appeared richer and brighter, while the clementine with the benzoyl peroxide-solution rotted and turned black.
Clementines certainly aren't human skin, but at BalmLabs we feel the choice is clear: plant-powered, clean solutions for healthy-looking skin, not harsh chemicals.
---