"I feel happy and free again now that acne isn't weighing on my mind 24/7. I have such confidence; it's amazing."
Skin Story:
"In high school, my skin was ok, but by the time I got to junior year in college, I had developed really painful cystic acne. My entire face had just exploded due to stress."
What she's tried:
"Everything. I went to so many dermatologist appointments. I tried topical creams, injections, and even oral medications. The latter did help and got my cystic acne under control, but that medication can affect your liver function and really mess you up, so I stopped taking it and just tried every skincare product—the expensive ones, the cheap ones, the trendy ones. They would help for a bit and then stop working. I just wasn't seeing results."
"It feels great to not have
to hide anymore. I have such
confidence in my face now."
The emotional toll:
"People don't talk enough about the emotional effect acne has on you. If I ever went a day without makeup, I knew I'd get a comment like 'Have you tried this treatment?' or 'Wow, that looks so painful.' I wore tons of makeup and even covered my face with my hair to hide my acne. I was always taking 20 more steps than everyone else who could go out in sweatpants and with no makeup on. I felt I had to wake up early to make sure my makeup was done, and I was dressed to the nines to distract from my face. When you have acne, you think about these things constantly."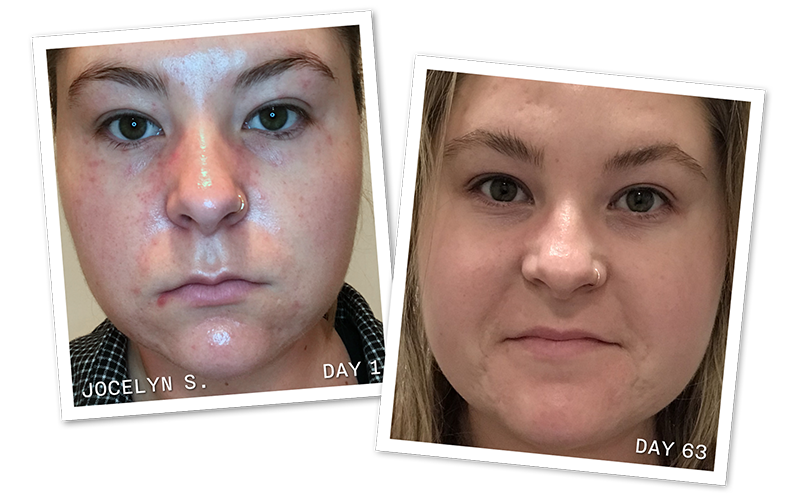 Jocelyn Day 1–63/Provided
The financial toll:
"Dealing with acne can be so expensive. With medications, you have to go through insurance or pay out of pocket. Back in college, I was still on my parents' insurance plan, so it wasn't a big issue, but now that I'm not, I really don't have that kind of money to spend. Also, I'm a professional adult in a working environment; I [don't have time] to go through rounds and rounds of dermatologist visits. Then there's the cost of trying different topical creams and products. And it's all just trial and error. When they don't work, of course, you want to give up."
A-ha moment:
"I'd given up and accepted the fact that I'd have pimples and would have to just always wear makeup. But within the first week of using ClearBalm, I saw the little pimples go away, which was great, but I wasn't sure it would work on my deeper acne. Now, just 12 weeks later, I have no pimples. I went to brunch the other day with zero makeup on. That's been such a relief. I feel happy and free again now that acne isn't weighing on my mind 24/7."
Why ClearBalm:
"When I started seeing results, all of a sudden I had more time to focus on personal things like self-care. Now I can wake up and go to the gym in the morning instead of taking time to apply 27 layers of concealer. I've even been drinking more water because I feel like if ClearBalm is working so hard for my skin, I want to support it from the inside, too. The products just work; you can see the difference."
The big takeaway:
"Some of my friends are seeing me without makeup on for the first time ever. It feels great to not have to hide anymore. I have such confidence in my face now.
"The products just work;
you can see the difference."
What has changed for her:
"Confidence. I would say my biggest thing is feeling less—actually, no—self-consciousness, and just feeling more and more confident within my skin.… I feel like I was hiding behind a mask, you know? I had to always put makeup on wherever I was going. I don't have to hide behind that mask anymore."
---