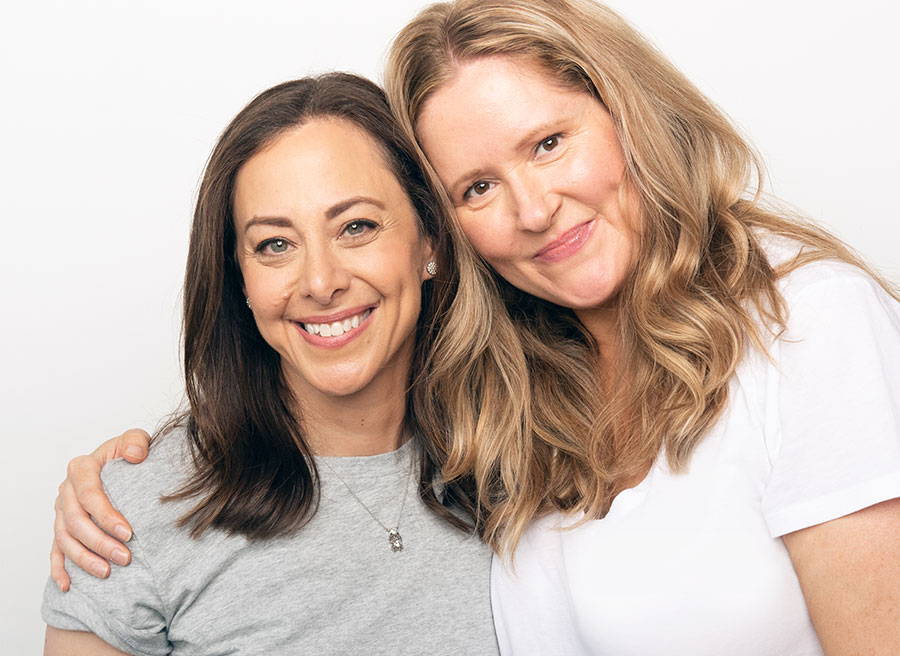 Dr. Robin Schaffran, Co-Founder and Chief Dermatologist & Sarah Waldock, Co-Founder and CEO / Photo by Vivien Killilea Best
Our story
It all started with another breakout. After dealing with acne in her teens and 20s, Balm's founder, Sarah Waldock, thought she was past the painful breakouts — only to see them resurface in a whole new way in her 30s and early 40s. (Thank you,
stress
and
hormones
!) She searched everywhere for over-the-counter products, but almost everything she tried was formulated with ingredients like salicylic acid and benzoyl peroxide, which she found too irritating and overly drying for her adult skin.
Sarah became determined to create a skincare line that was powerful enough to banish blemishes, but gentle enough to nourish her skin. She added smoothing the appearance of fine lines and reducing redness to her wish list (because, why settle?).
She reached out to
Dr. Robin Schaffran
, an in-demand, Beverly Hills-based dermatologist who had also become frustrated by the lack of innovation in products available to those suffering from *adult* acne. Together with a team of North America's leading skincare scientists, they spent a year creating BalmLabs' first groundbreaking line of products:
ClearBalm
, a plant-powered, science-driven 3-step system for adult acne-prone skin that doesn't rely on stripping chemicals like salicylic acid and benzoyl peroxide.
Using a unique combination of
6 Superstar Actives
, ClearBalm marks the first real innovation in solutions for adult acne-prone skin in over 20 years.
ClearBalm superstar 6 ingredients / Rob Caruso & Vivien Killilea Best
What We Believe
We believe that you shouldn't have to make a choice between gentle and effective. We believe that real skin solutions should be driven by clean science. We believe that less is more, especially when it comes to your skin.
The development of our products was driven by the belief that there was a better way for acne-prone adults to achieve clear, radiant skin. And when we say adults, we mean all adults: closing the gap in acne solutions for melanin-rich skin tones was one of our founding objectives. Because of this, we avoid stripping actives like salicylic acid and benzoyl peroxide, and all of our ingredients have been carefully vetted to ensure that they are safe and effective for all skin tones. We believe that everyone deserves effective solutions for acne-prone skin.
We harness the efficacy of plant-powered actives in all of our products, and we don't believe in filler. Every ingredient is there for a reason. ClearBalm products are cruelty-free and free of synthetic dyes and fragrances, parabens, and PEGs. We do include gentle preservatives, which prevent bacteria growth and extend shelf life, since the safety and efficacy of our products is our top priority. ClearBalm products can be used individually, but for best results, we strongly recommend the 3-step system (it's the only one you'll need).
We Want to Share in Your Journey
We started Balm because we know the confidence that stems from clear, glowing skin, and we truly believe that changing the story of your skin can change the story of your life. But we also know that journey can be scary. That's why Balm offers solid, reliable intel and candid stories of real skin transformation. We're here for you whether you have questions, need to vent or just want to see pictures of our office pets (frankly, we send those even if you haven't asked for them—not sorry!). We believe there's catharsis to be found in community. Join ours!
Sign up for our newsletter below to stay in the loop (and for exclusive offers!) or email us directly anytime hello@balmlabs.com.